Our Armchair Quarterback Critique of FS Commercials From Super Bowl LV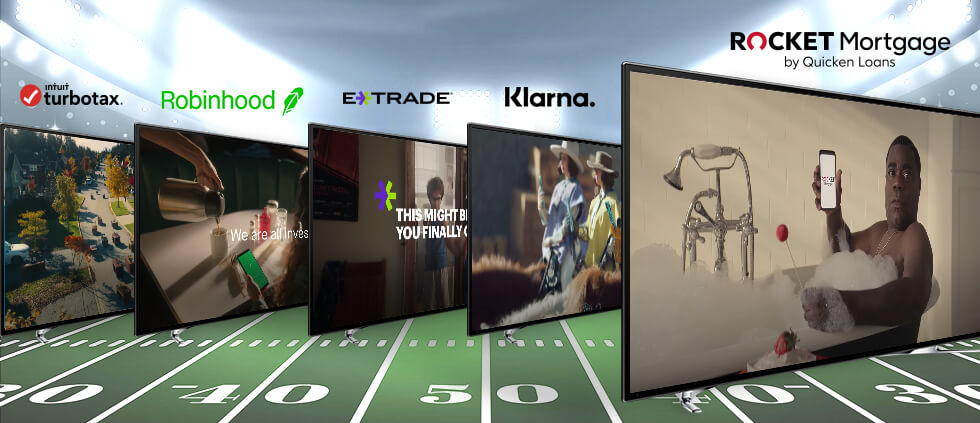 The NFL built up Super Bowl LV to be a clash of quarterbacks, but the results of that match-up were very one-sided. Tom Brady cemented his position (if he even needed to) as the GOAT, while the Tampa Bay defense stifled Kansas City, forcing Patrick Mahomes to constantly scramble. Overall, the 31-9 game was uneventful. But how about those commercials?
It's been a few years since we dug deep into the financial services ads of the Super Bowl. And while the game was lackluster overall, it was fairly eventful for FS brands … well, at least one.
Rocket Mortgage
Rocket Mortgage has been a regular Super Bowl advertiser since 2016. This year, the brand seemed to pull out all stops with creative, talent and sponsorship of the Half Time Show. The result: a historic showing by an FS brand, coming in at #1 and #2 on the USA Today Ad Meter. (Note that we did not check back with every single Ad Meter to be sure that it was actually historic, but it's still a big deal, so please forgive our flourishes).
[This video is no longer available]
The commercials center on knowledge that's key to homebuying: How much home can you afford, and do you have the right paperwork?
The spots ask you to imagine scenarios where you're "pretty sure" things are safe, when they are obviously not. They set up Rocket Mortgage as the solution, because "certain is better." Rocket Mortgage employs a range of celebrities in these ads, from Tracy Morgan to Dave Batista, YouTuber Liza Koshy and NFL player Joey Bosa. They even work in a reference to murder hornets. The spots are smart, funny, star studded, and most importantly answer the key questions they've established. What's not to like? No wonder the two spots came in #1 and #2.
Alas, the rest of the financial services ads did not fare as well.
Klarna
This Swedish bank's main product in the U.S. is a "Buy Now, Pay Later" (BNPL) plan. We published a post on marketing for BNPL, including Klarna, just a few weeks ago, so we were intrigued to see them advertising during the big game. Other people, not so much. Klarna came in 53 out of 57 in the Ad Meter but performed much better among critics (three stars on the AdAge review).
Essentially, Klarna is a way to choose installment payments for online shopping, a riff on layaway that's become a popular trend in the digital payments space. Not surprisingly, we agreed with the critics in AdAge and found Klarna's "Four Quarter-Sized Cowboys" creative to be "a clever, entertaining way to explain its utility to consumers." We always advise clients to play up the main benefit, and Klarna did just that. And they featured four versions of Maya Rudolph to boot (pun intended).
E*TRADE and Robinhood
Next, we have a pair of investment apps/platforms: one "old school" and one considered the hot new thing.
E*TRADE takes two things currently in the zeitgeist — working out at home and The Karate Kid (did you recognize the song?) — and smashes them together.
The ad represents the brand's return to the Super Bowl after a two-year hiatus. After famously featuring monkeys and babies, and then more monkeys and babies in their ads, this year's creative seems tame by comparison and also slightly out of touch. We understand that the investment platform needs to actually encourage investment, but we have to ask if this the right message for the moment: "This might be the year you finally get in shape. Financially, at least." During a global pandemic, with unemployment at all-time highs, we're not certain it works.
But if E*TRADE was slightly tone deaf, Robinhood made people downright mad. If you're not familiar with Robinhood, it is an app that attempts to gamify investments with alerts, an easy-to-use UI and options to buy cryptocurrencies. The brand was also right in the middle of the recent to-do about GameStop stock, short-sellers and stock bubbles. … so, it was unfortunate timing that they rolled out this ad for the game:
No one wants to come out of their first major advertising effort and be in a Twitter war with, well, everyone, but that's exactly where Robinhood finds itself. Setting aside the controversy, the line "we are all investors" is very on-brand for Robinhood. The app is intended for entry-level investors. In another time or moment, this would possibly resonate with the target audience made up of Gen Z and Millennials. But right now … not so much.
TurboTax
Another Super Bowl, another spot by TurboTax. This time, the brand brings us tax experts.
It is rare that we learn something new from a commercial, like you pay no taxes in New Mexico once you turn 100 years old. Plus, we love a good flatulence joke in the Super Bowl. AdAge gave it 3 ½ stars, with praise for its focus on the tax experts and the country song that plays throughout. In general, we agree. Focus on your core value prop, in this case, access to live experts. However, even though we love a good ditty, this particular one was hard to comprehend.
Super Bowl LV and its ads are in the books. We look forward to next year when we can play armchair ad critic again!