This Umpqua Blog Post Knows Its Brand *and* Its Audience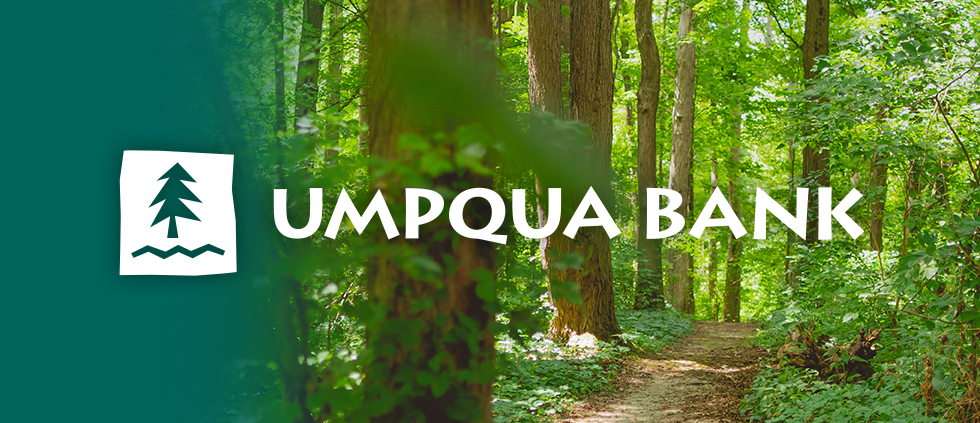 The call to action for a recent Umpqua Bank blog post is fairly typical. You know the drill: "Contact one of our financial professionals today for …." (fill in the blank). Inviting conversation is an important part of what we want our financial services content to do, of course, but this particular type of CTA only works if the reader makes it all the way to the bottom of the post.
So how do you get them there and inspire them to reach out to deepen the relationship with your bank?
Your blog posts need to be interesting and relevant and give readers something they need.

It starts by knowing your brand and your audience and being able to express that in your content. If your financial education content on budgeting tips or the benefits of online banking sound just like everyone else's, why do customers need your content … which naturally leads to why do they need you? Like all good marketers, you have an answer that's likely related to the value and service you deliver, but if that doesn't come across in your content, you're missing an opportunity.
Use blog posts to meet your customers' needs in a way that's unique to your brand.
Be specific and be personal, as with the Umpqua Bank blog post we teased in the opening paragraph. In "Financial Life Lessons from the Pacific Crest Trail," Umpqua VP/ Senior Private Wealth Advisor Todd Hobson uses the preparation required for hiking the Pacific Crest Trail as a metaphor for pursuing big life goals: "Most people who embark on a dedicated journey like the Pacific Crest Trail do it because it fulfills a purpose in their life. Similarly, financial planning can help you live and fulfill yours."
Here's how the post opens: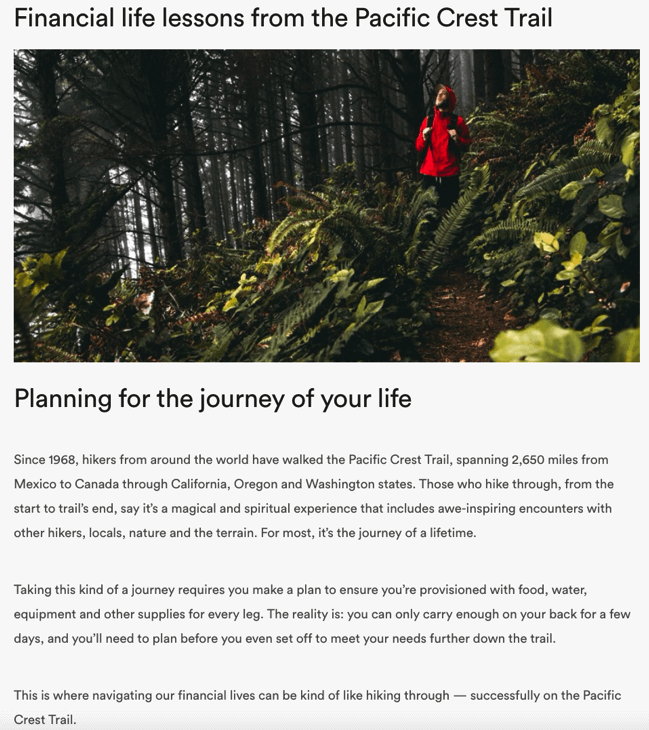 Sticking with the metaphor of the Pacific Crest Trail thru-hike, which takes about five months, Hobson goes on to describe why many don't succeed. He says, "Unfortunately, the failure rate is high … mostly because those who don't complete the journey, fail to plan properly." He then continues to connect the story to the point of his post: "A comprehensive financial plan can set you up for success on your journey, ensuring you have the resources you need for important goals over time, such as funding a child's education, purchasing another home or having stable income in retirement."
Although the Umpqua Bank blog post is a little light on specifics — the steps, the how-to, the resources, etc. — it conveys a few things that go a long way when it comes to financial education content:
The blog post reflects the bank's brand. For starters, Umpqua's logo is a tree, so it's spot on for this post to rely on a hiking metaphor. Bonus points because that hike is significant in and proximate to Umpqua's geographic footprint.
The blog post is likely to be of interest to the bank's customers. It taps an emotional need (fulfilling a purpose) in a context that customers (individuals and businesses in the Pacific Northwest) know well. They've likely heard about this exact journey for years, so it's not a stretch to make sense of it as a model for pursuit of their own goals.
The blog post is aligned with the bank's stated mission. On its website's "About" page, Umpqua says this about itself: "We pair financial expertise with a passion for getting to know you as an individual —and it's not just because we're looking for new gym buddies. We're on a mission to help you manage your money in a way that matches how you live your life." Hobson's post achieves this connection.
Other blog posts from Umpqua Bank don't necessarily replicate this model, but this one is worth a shoutout just the same. As banks and credit unions continue to invest in content marketing, often with an emphasis on financial education, it's important they put their own stamp on content. Making the guidance and recommendations their own — using branding, geography, shared narratives or even the personality of the subject matter expert — will help blog pots resonate with their audience, better connect with customers and stand out from competitors.
Header photo by Ethan Unzicker on Unsplash