Accessibility Best Practices for Social Media + Downloadable Tip Sheet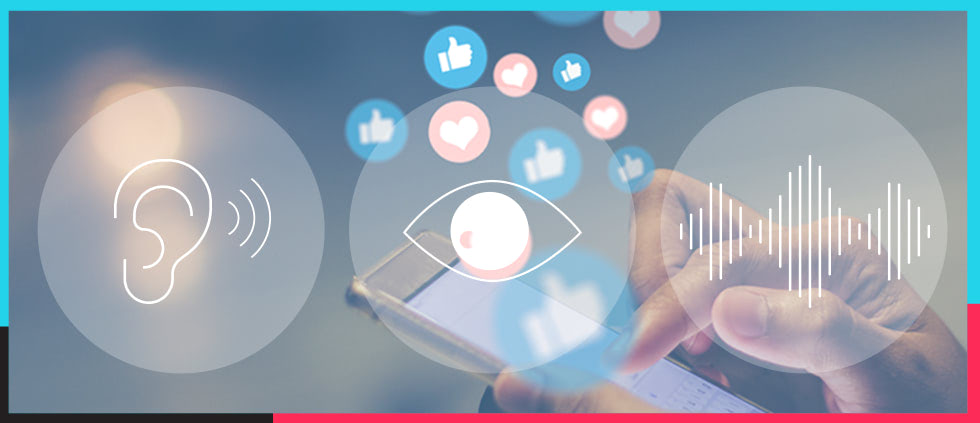 Social media accessibility is a topic that all marketers should be talking about and addressing. Brand leadership should want to be up-to-date on all accessibility best practices. After all, we know that when more people are able to access and enjoy our content, our potential audience grows. Always a good thing!
It is also legally in companies' best interests to follow accessibility guidelines for websites and social media. Major companies have been sued for inaccessible web content, including Nike, Blue Apron, Domino's and Fox News Network. These types of cases are becoming more and more common: The number of Americans with Disabilities (ADA) Title III federal lawsuits increased from 2,722 in 2013 to 11,053 in 2019.
There's also a social cost, especially when it comes to social media. Lagging too far behind on accessibility puts your company at risk of social backlash. On the other hand, brands that do well are lauded, like NASA was for the thoughtful alt descriptions that accompanied the stunning images from the James Webb Space Telescope.
So how do you get started? We came up with the acronym FAVE to help marketers remember four of the most important and basic elements for social media accessibility: Formatting, Alt Text/Images, Video and Emojis. In this blog post, we'll explain why FAVE is so crucial and how you can use it to make sure your social media posts comply. And be sure to download our tip sheet for a printable checklist of dos and don'ts you can keep right on your desk!
Formatting
The big goal with formatting is readability, no matter the device. Certain trends, like writing tweets in two columns, are not only inaccessible for people using screen readers but can also appear out of order on different devices — like a phone vs. a desktop.
If a screen reader voices your post in the way you intended, that's a good indication that it will be easy to understand for most people. After all, screen readers read English text left to right. If your copy doesn't follow that format, it's sure to trip up your audience and accessibility devices.
When it comes to formatting:
Do:
Use Camel Case in hashtags and tags (capitalizing the first letter of each word #LikeThis)
Use punctuation like periods and commas, which tells a screen reader when to pause.
Don't:
Alt text/Images
For people with vision impairments, alt text is a must for images because it gives users an opportunity to understand the picture through words. Like NASA proved, alt text can help people visualize an image which would have been inaccessible and incomprehensible without alt text. It's easy to add alt text to images on social media and should be common practice for marketers.
When writing alt text for images:
Do:
Write alt text in plain language.
Be objective.
Focus on accuracy, not length.
Use personal identifiers (race, age, sex) only when needed or appropriate.
Include any words that are flattened on the image and can't be read by screen readers.
Don't:
Write "photo of" or "image of" at the beginning of alt text.
Add emojis, links, hashtags or symbols to alt text.
Be overly ornate or use fancy language.
Include nonessential information.
Rely on the automatically generated alt text. It's usually inaccurate or unhelpful!
For more, check out these tips from Harvard on writing good alt text.
Video
Video is increasingly prominent on social media, so marketers should make the effort to produce and post the content in an accessible way. That includes providing captions — preferably closed captions, which can be read by screen readers and size-/language-adjusted depending on the platform. (Open captions are burned onto the video and can't be customized by individual viewers). Most social media platforms allow users to add auto-generated closed captions to videos. When possible, it's also helpful to produce a version of the video that includes audio descriptions.
At live events or webinars, it's helpful to provide a brief self-description during introductions, as Vice President Kamala Harris demonstrated at a recent meeting with the ADA. An overview of what the speaker looks like and is wearing can give additional context that otherwise would be inaccessible to attendees who are blind or low vision.
For content that is audio-only, like podcasts, be sure to offer a written transcript for people who are deaf or hard-of-hearing.
When creating accessible video and audio content:
Do:
Include a transcript for audio-only products like podcasts.
Give a brief self-description during intros at live events or webinars.
Include captions on videos, preferably closed.
Produce a version of the video with audio descriptions when possible.
Emojis
Emojis, while fun, can cause challenges for people who use screen readers. Each emoji has its own description, which the screen reader will recite when it arrives at that emoji in the copy. So, when a screen reader voices a post that is riddled with emojis, the post copy will be interrupted multiple times with emoji descriptors, which can be confusing, lengthy or misleading. It's always a good idea to check the emoji description online before posting to assure that it accurately represents what you want to convey.
Here are some guidelines for using emojis in an accessibility-friendly way:
Do:
Check the description of the emoji on emojipedia.org.
Use emojis at the end of the post.
Don't:
Change the skin tone of the emoji (use the default yellow).
Use emojis as bullet points in a list.
Use excessive amounts of emojis.
Sprinkle emojis throughout the post copy.
Use emojis in alt text.
Accessibility is hugely important and, contrary to popular belief, is not very hard to implement. Use FAVE to remember the crucial elements each time you write a post — formatting, alt text and images, video and emojis — and download our tip sheet as a PDF or a JPG to reference social media accessibility best practices on a regular basis!
For more information on social media accessibility best practices, stay tuned for future blog posts from the Media Logic Social Content Team or check out Accessible Social, a free resource hub for digital marketers created by accessibility advocate Alexa Heinrich.