Sales Strategies for the Future of Food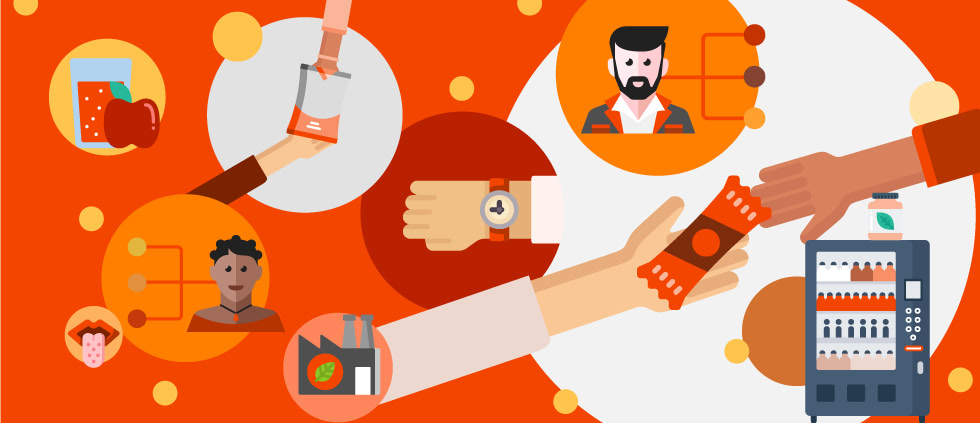 Millennials vs. Gen Z — Know the Differences, Embrace the Opportunities
Now that millennials have officially overtaken baby boomers as the most sought-after consumer group, they continue to drive trends in every sector of the retail landscape. As older millennials approach their forties, this generation is coming into age as a significant force in consumer spending, and they'll retain that clout for many years to come. That being said, Gen Z is just entering adulthood, and their generation promises to challenge many assumptions businesses have made about how much they have in common with millennials.
Is your company focused on product development and sales strategies that will provide growth opportunities into the next decade and beyond?
As B2C manufacturers have adapted their product development and marketing strategies to engage with millennials, B2B ingredient providers have recognized that serving this demographic is key to future growth. We agree, and we think the greatest growth belongs to businesses that go one step further to examine the nuanced differences between millennials and Gen Z to take a long-term view on the evolution of consumer preferences. We recommend starting with an understanding of millennials' life values and then developing a plan that accounts for areas of overlap and divergence with what matters to Generation Z.
Health
Millennials are driving current wellness trends, with 53% of them reporting health as one of their top priorities. They're eating healthier than previous generations, and almost half of them think of eating well as a lifestyle choice rather than a goal-driven diet. Millennials are also willing to spend more on foods they perceive as healthy, prompting some brands to embrace the concept of wellness as a luxury.
Gen Z considers physical fitness, healthy eating, and mental well-being as integral pieces of overall wellness. They're more pragmatic than millennials and less willing to pay luxury prices for healthier choices.
Both generations want healthy options, but the future challenge is to find a way to support those values without the "luxury" price tag.
Quality of Life
Millennials are looking for food solutions that are as mobile as they are. According to a report published by Mintel, 58% of millennials consider themselves a "foodie," and 57% think planning meals takes too much time. The solution? Meals that meet millennials where they are, emphasizing quality *and* convenience.
Gen Z believes that clean eating improves their quality of life to an even higher degree than millennials. When choosing snacks, these young pragmatists look for portability and expect the complete package of functionality and nutritional value.
Move to a more in-depth focus on ingredient quality and "clean labeling." It's safe to say that consumers will continue to raise the bar on rapidly evolving expectations for ingredient transparency, so be prepared to address nutritional, sourcing, and social/environmental concerns across all product categories, not just on premium products.
Individualization
Millennials grew up during a time of rapid technological innovation. Theirs was the generation that saw a relatively homogenous culture splintered by digital streams that provide a dizzying array of options to consumers. The result? Millennials want what they want. More than any generation to date, they consider choice a function of self-expression.
Gen Z continue the upward trajectory of individuality and have been dubbed "identity nomads" by researchers at McKinsey & Company. Native to a world full of choices and personalization, this generation, like the millennials, want what they want. They are also the most diverse generation to date, which will demand more diversity of food options.
Even more granular personalization. Consider the future of nutrigenomics—technological advances might eventually make specialized food choices more affordable.
Shareable Experiences
Millennials are less interested in collecting material goods than they are in sharing experiences with others. Although they've been labeled "the selfie generation," don't mistake their desire for connection as existing solely in the digital realm. More and more, millennials are seeking out communal experiences, and those often center around food.
Gen Z takes the desire to connect beyond the previous generation and could be considered "communaholic." Not only is this generation radically inclusive and drawn to brands that break down class, gender, ethnic, and racial barriers, they're most likely to put stock in recommendations from their social circle.
Look for opportunities to embrace the flavor fusion trend as a way to demonstrate inclusivity. Capitalize on the evolution of influencer culture where consumers will rush to be the first to share discoveries with "friends."
Global citizenship
Millennials' propensity for connection can be extended to their desire to be responsible global citizens. This generation believes that small choices can have a significant impact, and they consider their food and beverage choices a daily opportunity to affect positive change.
Gen Z again, takes millennials' inclinations to the next level. This generation is savvier about traceability and more concerned about how their food choices impact the global community.
Consumer trust will depend on better supply chain reporting and certifications. Be ready to answer to environmental/social concerns about production. Expand and diversify your supply chain to find nutritious, sustainable alternatives to monoculturally farmed products.
Smart manufacturers of food and nutrition solutions will recognize that millennial-driven trends are an indication of things to come, rather than a passing fad. Gen Z consumer demands will continue to deepen current preferences and areas of concern.
Take a long view on changes to product development and consider doubling down in these five areas:
1

Health
Organic

Fresh

Simple

High-quality proteins

Low sugar
2

Quality
Portable

Convenient

Delicious

Attractive

Fresh
3

Individualization
Personalized

Customized

Plant-based options

Gluten-free options

Allergen-aware

Ethnically diverse
4

Shareability
Texture/color

Flavor

Social

Adventure-ready

Snack-sized
5

Responsibility
Ethically sourced, fair trade

Ingredient transparency & traceability

Sustainably produced & packaged

Sincere, cause-related efforts
Changing consumer priorities require a corresponding shift in the food and beverage industry. The most successful ingredient suppliers will be those who partner with product developers to tell a story that better reflects the values of these new generations of consumers. As a result, everything's on the table for reconsideration or improvement, including sourcing ingredients, formulation, form factor, partner collaboration, employment practices, packaging, equipment, processing, and sustainability efforts.
How are you positioned to reach the new breed of decision-makers in the food and beverage industry? As the oldest millennials approach the mid-point of their careers, they're moving into key positions and are much more likely to be your primary point of contact with your business partners. Read on for some strategies about how to communicate, collaborate, and connect with millennial decision-makers.
Tags:
b2b
,
food ingredients
,
gen Z
,
ingredients
,
millennial marketing
,
Millennials