New-School Checking Accounts Break Old Rules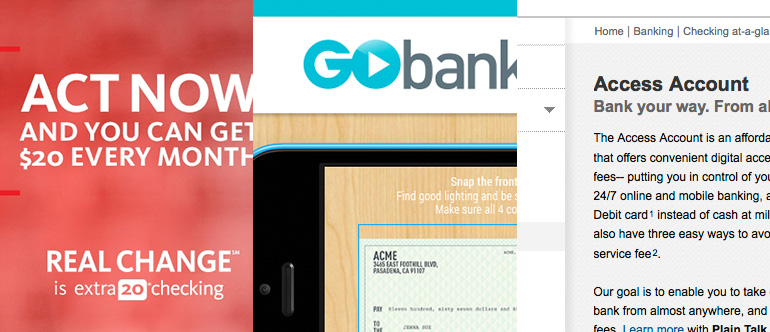 There are few banking products as classic as the checking account. Its origins date back to the Roman Empire, and the "modern" printed check emerged in England during the 1700s. Checks have been a dependable cornerstone of American banking for almost two centuries, which, of course, makes them hopelessly out of step with the modern world.
To the increasing number of Americans using online and mobile banking, the idea of balancing a checkbook or even writing a check is quickly falling out of favor. According to Pew, over 50% of Americans bank online and over 30% use their mobile phone for banking. Meanwhile mobile deposits are on the rise, and the number of paper checks written in the U.S. has declined by over 25% since 2009 – they could disappear altogether by 2026. More and more the classic checking account feels like a relic from another era.
But there are a few financial institutions trying to break the old rules that we used to associate with checking accounts and give this classic product a new look.
Old Rule: Checking accounts don't earn interest.
New School: Santander offers a "credit."
Interest rates have been close to zero for almost a decade now. According to Bankrate, the national average for interest checking is 0.25%. That's chump change. With the Fed set on keeping rates low for some time, what are banks to do?
If you are Santander you just reframe interest as a credit. The extra20 checking account has a fairly simple value proposition:
Open an extra20 checking account and an extra20 savings account.
Make more than $1,500 in direct deposits each month and get a $10 bonus.
Pay two or more bills with Santander's online banking and get another $10 bonus.

Even for someone making a modest annual salary, those are fairly low hurdles to reach in order to get an extra $240 per year. And while $20 a month might not seem like much, it's effectively a 16% APY, which is way more than the going rate these days.
Old Rule: A bank is where you go to get a checking account.
New School: Green Dot teams up with Wal-Mart.
Back in the "good old days" you had to walk 10 miles, uphill both ways, in the snow to go to a bank and apply for a checking account. Banks and credit unions were the only game in town if you wanted a checking account… but no longer.
Green Dot recently announced that its GoBank checking account would be offered exclusivity at Wal-Mart stores. Gone are the days of schlepping to the bank. Now you can grab a GoBank starter kit for $2.95 while shopping at the biggest of big box stores, set up your account and bank exclusively online.
And GoBank comes with a few unique features:
Low fees – A monthly "membership" cost of $8.95 is waived with a direct deposit of over $500.
Early paycheck availability – Employers often notify banks before a direct deposit actually occurs, and GoBank customers can take advantage of this with early access to their funds.
Spending advice – The GoBank "Fortune Teller" checks the price of an item with a customer's planned income and expenses and warns them if they can't afford something.
Send money instantly – GoBank customers can send money to each other via email or text message.
"Money Vault" – GoBank offers a companion savings account.
This seems like a natural fit for both companies. Wal-Mart, a player in the payment and banking sectors for several years now, gets exclusive retail access to an emerging and unique product. Green Dot gets a massive retail presence and huge exposure to an unbanked audience.
Old Rule: Big banks offer free checking, but have high fees if you overdraft.
New School: Bank of America charges a monthly fee and eliminates overdraft.
Remember the $40 latte? The mythical $5 cup of coffee that could trigger an overdraft with a hefty $35 fee was a staple anecdote during the credit crisis, used to show the excess of checking account fees. The story went that those fees subsidized the free checking accounts consumers had come to expect.
Now Bank of America, the poster child for those fees, has turned the idea on its head with the SafeBalance Banking Account. The account comes with a "predictable" $4.95 monthly maintenance fee and no overdraft fees. In fact, Bank of America actually helps customers avoid overdrafts by declining transactions if there is not enough money in the account. But even if a customer has a negative balance, the customer will not be charged a fee. That's a big turnaround for a company that recently settled a class action lawsuit after accusations of excessive overdraft fees.
And Bank of America is also saying goodbye to one other traditional part of checking accounts: checks. On that front, it is not alone.
Old Rule: Checking accounts include checks.
New School: Citi's checking goes check-less.
It's called a checking account, so you'd expect that it would have checks. But you'd be wrong. Citi's new Access Account is "checkless checking." Designed for digital users, Citi developed this account with the backing of its own national survey which showed:
More customers now use online and mobile banking (38%) than use paper checks (32%).
53% of consumers avoid writing paper checks whenever they can.
Over 20% of lower-income and younger consumers do not even own a checkbook.
Only 9% use checks to pay for large purchases, and only 4% use checks for smaller purchases.
Like Bank of America, Citi's account has a maintenance fee, but it's $10. The fee is waived if customers make a bill payment, have direct deposit or keep an average balance of $1,500 or more.
Of course, the "traditional" checking account is still around and offered by plenty of banks and credit unions. But these four examples show that some financial institutions are looking at the untapped banking markets of Millennials and the unbanked. It's great to see so many established entities innovating and trying new ways to capture these all important markets. They have peered into the future and know that the traditional checking account is on its way out. With these products, they are seeking to find its replacement.