Discover Takes a Mobile-First Approach to Deals and Holiday Offers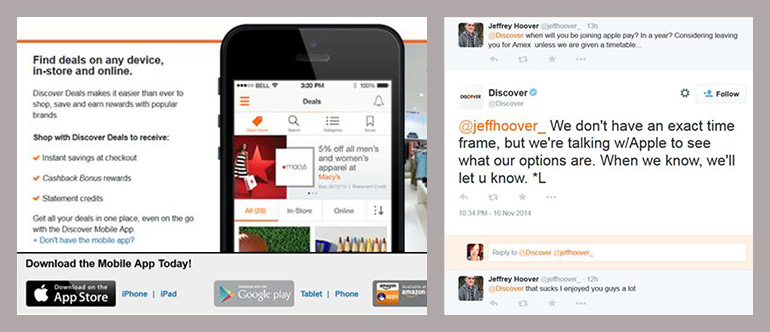 Discover has noticed that "more customers are signing up for a Discover credit card via mobile app than expected," according to a recent article in Mobile Commerce Daily. So when it came time to streamline its offers from "ShopDiscover" and "Discover Extras" into one place – "Discover Deals" – the brand gave lots of attention to the mobile experience.
While cardholders can access savings of five to 20 percent via Discover Deals online, the push is to the mobile app, and one of the perks – along with statement credits or Discover's hallmark cashback bonus –  is instant savings at checkout with participating retailers.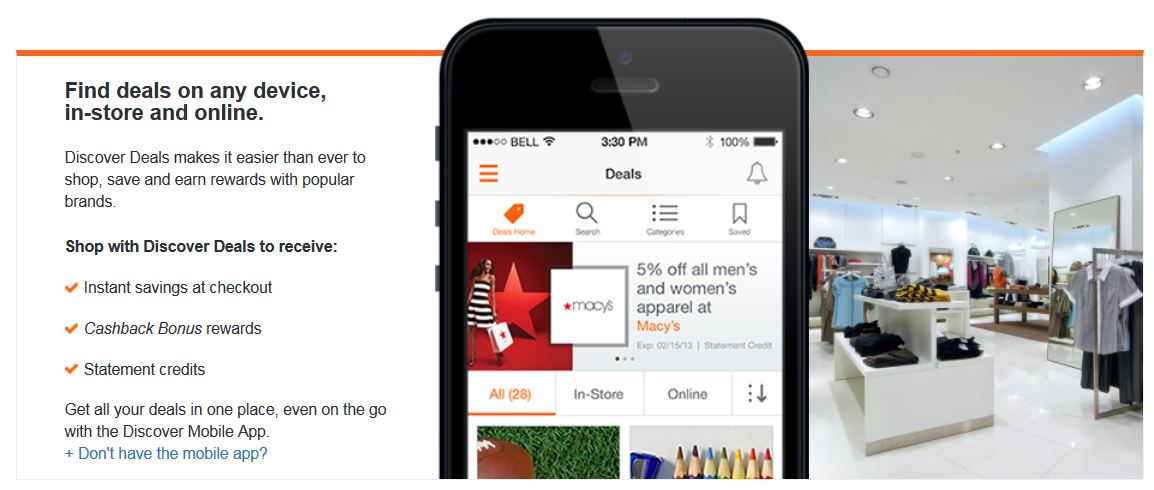 Mark Scarborough, Discover's senior vice president of cardmember service and engagement, told Mobile Commerce Daily, "More and more of our cardmembers are incorporating their mobile devices into their shopping patterns, whether doing research, looking for coupons or making purchases." He says the goal of the app is to deliver "a seamless customer experience."
In addition to advancing a mobile deals strategy, Discover has timed its efforts with consumers' traditional holiday spending. Many of the offers from retailers encourage spend on electronics and seasonal items from merchants like Dell and 1-800-Flowers, respectively. For Discover "it" and Discover More cardmembers, the deals coincide with a five percent cashback bonus on this quarter's bonus category, "holiday shopping": up to $1,500 in online and department store purchases between October 1 and December 31.
Last year, the bonus was limited to online shopping only. The extension this year to department store purchases likely indicates Discover's anticipation that customers will use the brand's mobile app in-store.
Takeaways
Both the timing and the attention given to mobile make sense. IBM has predicted a record mobile holiday shopping season in 2014, and Forbes expects "mobile commerce to grow exponentially this holiday season." It says shopping from smart phones and tablets will account for 24.4 percent – nearly one quarter! – of all online sales.
Discover's efforts – both savings and the convenience of mobile – indicate the brand is capitalizing on changing behaviors within its customer base and doing what it can to ensure that cardmembers pay for those holiday purchases with the Discover card in their wallets… wallets that are increasingly likely to be mobile.
We're pleased to see the mobile adaptations of deals and rewards, but right now, a financial institution's mobile strategy must include Apple Pay. And though reports indicate Discover is going to join the FIs participating in Apple Pay, consumers are getting impatient. Discover's Twitter stream contains several complaints about the (as of now) missing mobile capability: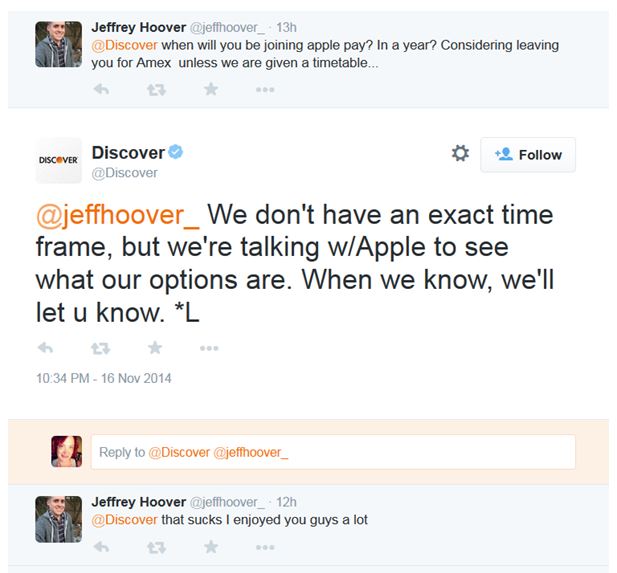 Tags:
Discover
,
financial services marketing
,
holiday shopping
,
mobile