How the Metaverse Will Transform Healthcare – and Healthcare Marketing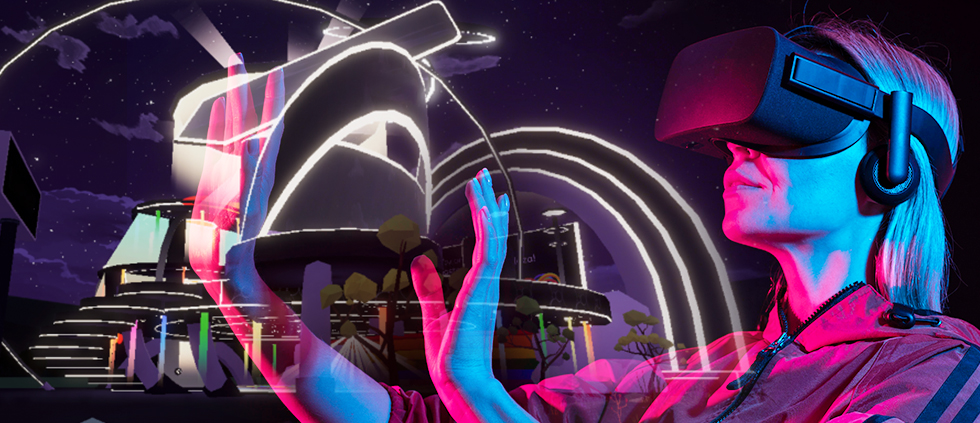 Rock Health – a multi-faceted brand focused on digital health ecosystems – is a big believer in the metaverse. And they think you should be, too. As they explain, it offers a wide-scale opportunity for healthcare companies willing to organize and enter the space:
"We're especially excited by the metaverse's potential to reduce burden on patients' real lives, whether by scaling access to therapeutic environments or by simulating possibilities before making care decisions. We also wonder how these solutions might deepen connections in virtual communities, break down isolation barriers for seniors and people with disabilities and make it easier for individuals to participate in research."
In addition to predictions about healthcare delivery transformation, there's much speculation about business and marketing opportunities in the metaverse. To avoid missing out—and to get ahead on learning from the environment—some healthcare brands are already experimenting in the metaverse.
Below, we explain exactly what these pioneering healthcare brands are doing in the space and share some early intel on the kinds of opportunities that exist for healthcare brands in the metaverse.
Mental health support in the metaverse
Bump Galaxy
As discussed in a blog from Design Academy Eindhoven, Bump Galaxy is a virtual community based on the world of Minecraft. In its virtual realm, users can visit spaces for meditation and reflection or meet with mental health professionals from all over the world.
Apollo Hospitals
Working with tech start-up 8chili Inc, Apollo Hospitals has started work on patient counseling through virtual reality. Using 8chili's VR app, patients can engage in activities to learn how to manage emotions. The hope is that this personalized approach will result in higher patient satisfaction.
XRHealth
According to CTech, XRHealth (a provider of expanded reality therapeutic solutions, including therapy through VR headsets) received $10 million to expand operations into the metaverse. Its CEO says its goal is "to create a new form of healthcare that is accessible at any time of day, from any location … [and] personalized and adjusted based on real-time analytics."
Latus Health
Latus Health hopes to treat over 1 million patients daily by setting up virtual offices – starting with a mental health clinic – in the metaverse. An article from Fierce Healthcare explains that Latus seeks to eliminate wait times, improve healthcare access and build an environment to support patients who feel isolated from their provider during traditional remote sessions.
Pharmacies and clinics in the metaverse
CVS
As reported in eMarketer, CVS has filed to trademark its pharmacy, health clinics and retail goods in the metaverse. CVS also plans to provide wellness and nutrition coaching in the virtual setting.
Yashoda Hospitals
Yashoda Hospitals, located in the Indian state Telangana, has purchased "land" in popular metaverse platform Decentraland. The hospital chain plans to offer healthcare services in the virtual world and hopes to be one of the first healthcare systems established there.
Aimedis
Aimedis, a blockchain-based company creating clinics in the metaverse, has created "Aimedis Health City," a virtual place where other clinics will be able to rent or buy space.
Metaverse fitness rewards and gamification
GOQii
"GOQii will collaborate with Animoca Brands … to develop leverage blockchain tokens and gamification in preventive healthcare," the company says in its blog. Every task completed on the GOQii app earns tokens that can be redeemed for products, invitations, virtual property or donations to social causes. Users can also create an avatar with a "health rating" that improves with each healthy task completed within the app.
Healthify
Healthify has implemented a similar program where mobile app users can communicate with coaches, complete daily sports programs, record daily performance and make purchases. Customer avatars will be able to participate in classes like yoga and CrossFit.
Healthblocks
Another virtual fitness platform, Healthblocks, encourages users to complete all their health goals on one day to get extra points.
Medical training and patient education in the metaverse
Johnson & Johnson
The Innovation Room, a virtual space created by Johnson & Johnson, houses medical devices and simulators that let doctors practice in environments like those in which they'll eventually work. According to a report from Entrepreneur.com, the environment simulates procedures performed in specialties such as orthopedics, oncology, electrophysiology and plastic surgery.
HouseCall VR
HouseCall VR was created by podiatry specialist Dr. Linda Ciaverelli to move healthcare training and education forward in the metaverse. In a piece from Technical.ly, founder Ciavarelli says, "One of the things I struggle with is helping patients understand things like peripheral neuropathy, a loss of feeling in your feet. If I could say to my patient, 'Go check this out [in Horizon Worlds] to see what this experience is like,' maybe the patient would come in the next time and say they really get it."
Envisioning healthcare brands in the metaverse
Admittedly, it can still be difficult for some healthcare companies to picture what they may be able to do in the metaverse to better serve patients and meet their business goals. But don't worry – we're happy to help you imagine the possibilities!
In addition to reviewing the examples above, we encourage you to check out early metaverse experiences from popular brands outside the industry. For example
It's also worth expanding your investigation of the metaverse to include lesser known brands. Already, for example, you can buy or lease real estate, find a lawyer, improve your fitness, meet new love interests and go on dates or commemorate a loved one.
Healthcare marketing opportunities in the metaverse
For further inspiration, here are some early examples of high-value product/service opportunities – and marketing opportunities – that intersect with healthcare and are highly likely to transform the customer experience.
Influencer marketing
We've written before about how healthcare companies can use influencers. Similar opportunities will exist in the metaverse, most likely starting with celebrities and highly popular influencers from both gaming and social media.
Billboards and signage
While we haven't seen any healthcare brands taking advantage of advertising in 3D virtual spaces, financial services brand Mastercard provides an excellent example of how signage can be used. Check out these "venue billboards" in Decentraland that guide guests to Mastercard's Pride Plaza:
Event integration
Buzz around major sporting and cultural events is already spreading to the metaverse, and healthcare brands can host conversations and experiences around these events, just as they do IRL. For inspiration, take a look at what NBCUniversal is doing. Its ad and programming partnerships are "giving viewers a deeper look into what's cooking in the Top Chef kitchen and an exclusive 360-degree view of the Thanksgiving Day parade" and "bringing one of E!'s favorite hosts into Absolutland, a Coachella metaverse experience."
Digital engagement
The metaverse has the potential to transform everything from customer service to patient engagement. Whether it's immersive education about chronic condition management, gamification of healthy lifestyles or active participation in treatment, healthcare organizations can bet digital interactions will be part of the relationships between providers and patients in the future.
How payers and providers can get started in the metaverse
"In an unexpected break from the industry's usual cautious approach to adopting new technologies," explains PR Week, "leading life sciences organizations—everyone from CVS to Pfizer to Cedars-Sinai—are galloping forward… As varied as the early experiments are, there is an exciting common denominator: They're all based on the belief that the industry can create new ways to blend physical and virtual worlds — and in the process, make people healthier."
In addition, the metaverse represents a business opportunity for healthcare. As Alec Pollak, SVP of group omnichannel strategy for the FCB-owned agency says in PR Week, "The more that our clients and our internal teams learn today, the more they'll be able to do as these worlds start to get more interconnected. The metaverse is going to be very, very good for the healthcare business."
Currently, however, as we noted in June, the primary opportunity now is to test and learn in the metaverse without losing sight of your brand and how it serves its customers.
"Marketing has always looked to test innovative platforms," reports Fast Company. "Meeting people where they are is a core tactic that remains true… Whether the metaverse is the future of human interaction in digital environments remains to be seen. For now, brands must explore it. But, in doing so, there's another truth to hold on to: Brand integrity and managing consistency always matter, regardless of the platform."
Media Post echoes this test and learn approach: "Plan a pilot. Learn from existing creators. Engage your audience in a meaningful way that adds value. Just as brands learned with Web2, any effort in Web3 should align with company mission and values, overindex in brand safety and revolve around a test-and-learn strategy tied to measurable objectives."