Twitter Updates Offer Customer Service and Engagement Opportunities for Financial Services Marketers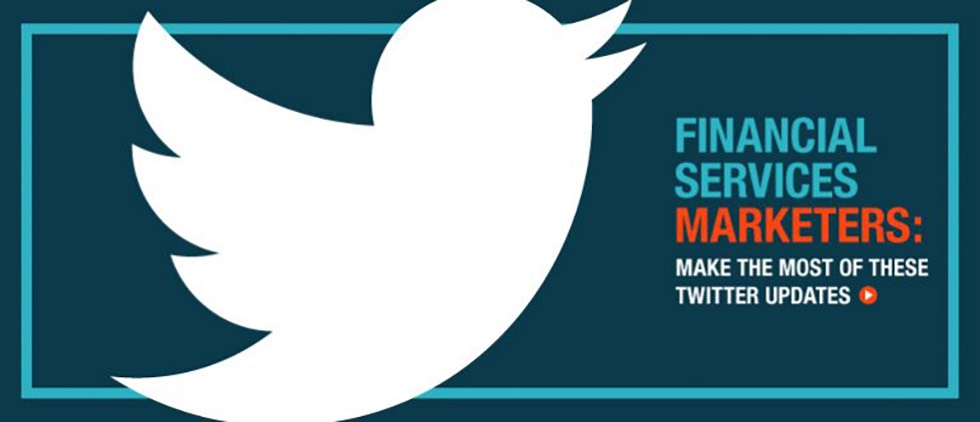 We recently pointed out some Facebook Page design changes for financial services marketers, but for most social strategies, Facebook is just one important piece of a comprehensive puzzle. More and more, banks and credit unions are also utilizing Twitter, which has 320 million monthly active users, as a space to interact with customers. From live commentary to customer service, Twitter is becoming a go-to engagement tool for financial services marketers. Staying on top of updates is fundamental.
Over the past decade, the platform has evolved from simple messages with just 140-characters of text to a landscape rich with visuals and video. In recent months, we've seen notable changes that present significant opportunities for both brands and consumers. The latest round of updates offers more room for expression, keeps conversations tidier and simplifies communication between brands and customers.
Get GIF (or photo or video) happy
While tweets continue to be 140 characters, visual and media attachments – including photos, GIFs, videos, polls and quoted tweets – no longer count as characters within tweets. With more room for copy and context, bank and credit union marketers can include key messaging, links and hashtags in tweets without having to forego informative video spots or eye-catching images. Brands no longer have to choose between engagement-boosting media attachments and essential messaging copy. Here, Navy Federal Credit Union (@NavyFederal) offers budgeting tips via video, and First Entertainment Credit Union (@Firstent) adds a fist bump to an exchange with an FS industry news source.
Want to save more money this year? First step – create a budget. #WednesdayWisdom pic.twitter.com/UU6c51crrV

— Navy Federal (@NavyFederal) January 11, 2017
@KasasaNews pic.twitter.com/VIIBtUcDOu

— First Entertainment (@Firstent) January 11, 2017
Reach more audience members
Once it is fully rolled out, there will be instances when Twitter handles will not be counted in the 140-character tweet limit (@replies, for example). This means that more users will be able to engage in the same conversation without needing to cut down on words to make room for handles or send multiple tweets in a row. Similarly, brands will be able to interact with multiple users more efficiently.
In addition, marketers can get excited knowing that forgetting a punctuation mark at the beginning of a tweet will no longer mean a major drop in impressions. Soon, tweets that begin with @names will be visible in all followers' timelines, eliminating the need for the pesky ".@" method of starting tweets. Without these updates, for example, the following tweet from Village Bank (@VillageBankVA) about a community event would only be seen by users who follow both Village Bank and the Retail Merchants Association (@RetailMerchants), but with the update any follower of Village Bank will see it.
@RetailMerchants First Friday Forum on the RVA Craft Beverage Scene! Jan 6 | 7:15 am | $30 – $40 | Register: https://t.co/vGCZEO1akk #rva

— Village Bank (@VillageBankVA) January 4, 2017
Re-share key messaging
Need to inform customers about a product/service update or remind followers of an upcoming event? Twitter users can now retweet and quote themselves. This feature provides the opportunity to share a new reflection about an old tweet or reach new followers with a tweet that they may have previously missed, as in this example from Amplify Credit Union (@AmplifyCU).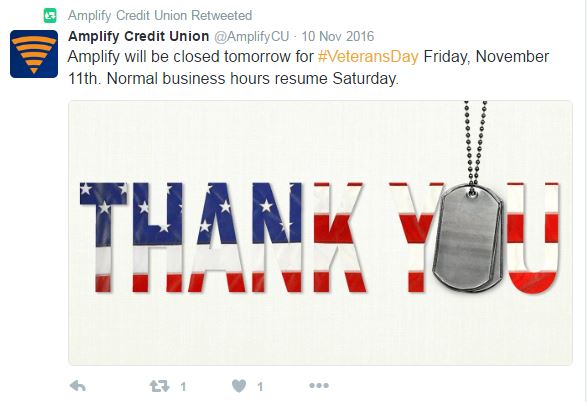 The new quoting option can also be used as a way to drive home key messaging, highlight important event, re-share newsworthy content or update a situation with a tech issue or branch.
Amp-up customer service
From a customer service standpoint, direct messaging has been streamlined in the latest Twitter update. A new message button, highlighted on this tweet from Golden 1 Credit Union (@golden1cu), makes it easier to share specific tweets through a direct message on mobile devices. This simplifies the process of beginning a private conversation and confirms that both parties are on the same page – making it a valuable and efficient tool for both customer service teams and consumers on-the-go.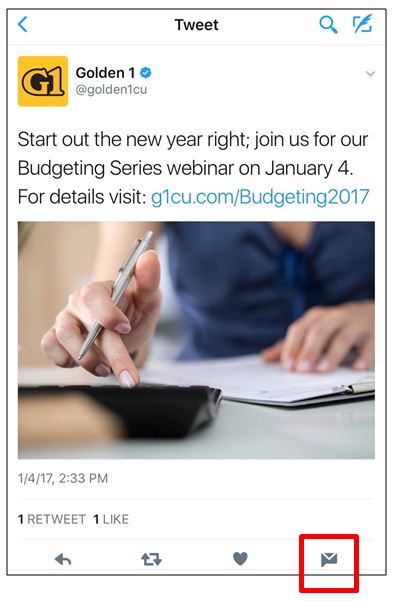 Also, through a new feature on the profile, brands can now indicate when customers can anticipate customer service responses. Brand-specified support hours will appear in search results, alongside mentions of brand accounts in tweets and within users' direct message inboxes. Discover, for example, specifies that its support team is responsive 24/7, but most brands list specific the range of hours they're monitoring the social platform. (Note: This may differ from your general customer service hours.)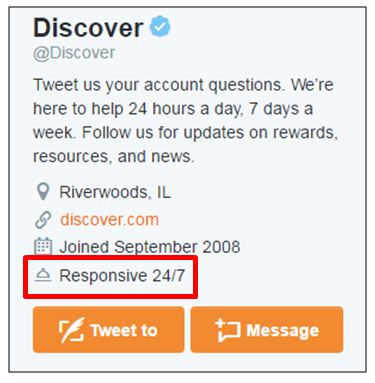 Implications?
Twitter has already indicated that, in addition to these changes, it will continue to roll out updates to improve the Twitter experience for brand accounts and personal accounts. While it's too soon to tell exactly how the latest Twitter updates will affect financial services marketers' Twitter strategies, there are a few things we do know:
Data shows that when it comes to engagement, tweets with media attachments significantly outperform tweets lacking visual elements.
More than 80% of customer service requests on social occur on Twitter, and that number is growing.
These stats tell us that Twitter's latest updates provide significant opportunities to boost engagement, improve reach and better manage a growing number of customer service inquiries.