Media Logic Retail Marketing Report Update: 15 Retailers Beat the Facebook Trend
Walmart makes a big jump on both Facebook and Twitter. Bass Pro Shops, New York & Company, Pottery Barn, Gymboree, Lane Bryant, Ann Taylor, Williams-Sonoma, Chico's, Macy's, Bebe, Cabela's, CVS, Banana Republic and Bed Bath & Beyond also show strong 2011 growth. Meanwhile, Kohl's, TJ Maxx, Lowe's Walgreens and J. Crew flatline.
It took a bit of work to separate wheat from chaff for the January-to-March update to the Media Logic Retail Marketing Report. Most tracked brands experienced a slowdown in fan acquisition after the holidays.
But 15 retailers defied the general trend and posted continued fan base growth into the first months of 2011. What did they do? And what can we learn?
The big story is Walmart. The monster Department/Discount brand enjoyed exponential growth in both its Facebook and Twitter fan bases, adding more than 1 million new Facebook Likers and 15,000 Twitter followers since January.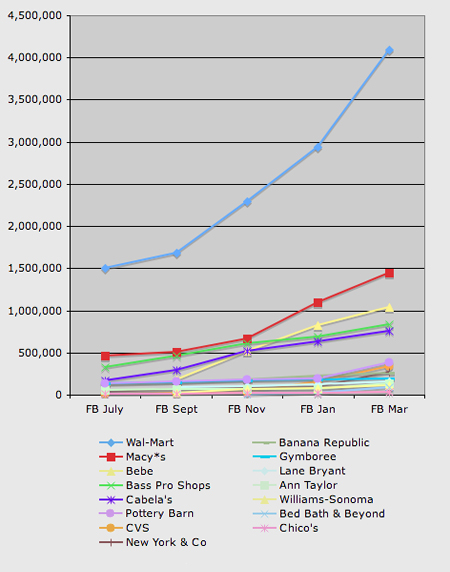 On Facebook, Walmart deployed a multi-prong social promotions strategy: part Pepsi Refresh Project-like community relations, part Groupon-like savings and part old-fashioned simple discounting. On Twitter, Walmart devoted a majority of its feed to the promotion of its sustainability initiatives. This strong cause/promotion balance, along with a big investment in conversation management (Walmart lists 12 managers for Twitter alone), paid off.
Fellow Department/Discount brand Macy's also saw strong social growth. More promotional and direct than Walmart, Macy's is among the biggest Facebook spenders. Its current feature, "Macy's Million Dollar Makeover with Clinton Kelly," is a well-produced riff on Kelly's popular cable show, "What Not to Wear."
Recreation brands Bass Pro Shops and Cabela's both edged toward the magic million fan mark in their ongoing neck-and-neck battle for the most Likers. Although Bass Pro turned in slightly better growth stats, Cabela's continues to outpace all other retailers in attracting fan feedback and user-generated content.
Specialty Apparel brands Lane Bryant, Ann Taylor and New York & Company entered into the spring fashion season on a big social upswing. In fact, NY&Co almost tripled its Liker base in two months to 268,000 fans with a simple low-lift social promotion that promised daily gift card prizes. By Media Logic's estimate, this single promotion increased the annual media value of NY&C's Facebook by at least $250,000, not a bad return on investment.
Select brands in the Specialty Hardlines sector repeated the success they had between November and January. Pottery Barn and Bed Bath & Beyond both posted big numbers, and both continue to attract positive user comments and user-generated content on their well-managed walls.
Finally, and notably, Twitter use continues to grow by double- even triple-digit rates for retailers. Target, Nordstrom, Toys 'R' Us and H&M have now joined Urban Outfitters, American Apparel, Coach, BCBG, Staples, Forever XXI and Sephora in the select 100K+ Follower club.
The findings reported in this update underscore the continued value and utility of the recommendations made in the Media Logic Retail Marketing Report. Brands that have followed its sector-specific advice are flourishing in social space, creating significant media value in their Facebook and Twitter feeds, and no doubt generating increased brand loyalty and word of mouth, not to mention traffic and sales.
---
Media Logic has been tracking and studying the use of social marketing by retailers since early 2010. We're ready at a moment's notice to present tailored strategies and creative concepts to any retailer on this list … or any retailer who would like to get on it.
Interested? Then contact us today.
---
[table id=11 /]
Tags:
brand loyalty
,
conversation management
,
department/discount brands
,
engagement
,
Facebook
,
fan feedback
,
Media Logic Retail Marketing Report
,
media value
,
recreation brands
,
retail marketing
,
retailers
,
return on investment
,
social growth
,
Social Promotions
,
specialty apparel brands
,
specialty hardlines brands
,
Twitter
,
user-generated content