5 Reasons Why Content Marketing Must Be Part of a Payer's Overall Marketing Strategy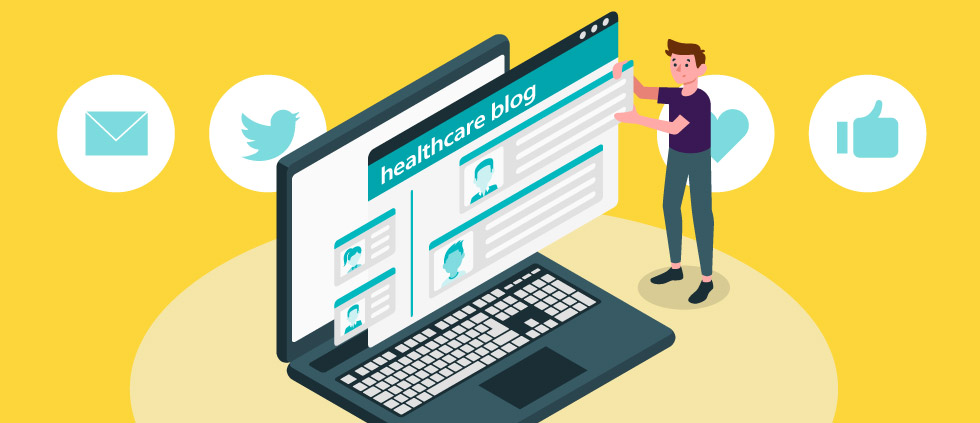 Blogging can be a very important component of any content marketing strategy. According to Hubspot, blogs are among the primary three forms of media used in content strategies today, and a strong portion (over 50%) of content marketers used blog posts in their content creation strategy. For health plans specifically, there are many reasons to include a blog in your healthcare marketing strategy.
1. Increases website traffic and improves organic search rankings
Everyone wants more quality website traffic, right? Adding a blog to your website adds dynamic content each time you publish a new post. Having a blog helps increase time on site, provides internal linking opportunities and encourages other related sites to link back to you, all things search engines love! Well-optimized blog content gives you more opportunities to appear on search engine results pages (SERPs). This keeps Google and other search engines coming back to your site to index new pages and keeps your target audience (most likely members and prospects) interested in your content and expertise.
2. Adds shareable, original content to social media streams
Whenever you write a new blog article, you're creating original content that people can share on their social networks. Content can also be shared on your health plan's social media pages. This means that you're strengthening your social reach with blog content, amplifying your content reach and driving new website visitors to your blog via your social channels. It's a "win-win"!
3. Promotes thought leadership
Remember that thought leadership content is insightful and compelling. It needs to bring something new and/or valuable to your target audience of members and prospects. Use your blog as a place to establish your expertise whether its in Medicare education, health and wellness content or other specific information relevant to your members, prospects, and others in your service area. Your health plan's blog also presents opportunities to connect with community partners and local media, providing them with a source they can link back to.
4. Provides member education
Your health plan's blog can cover a range of topics from general health insurance education to relevant health and wellness content, but you can also include information about specific benefits or services that your plan offers, making it a great tool for onboarding and benefits utilization. Overall, your blog can attract members to your website and help them feel better engaged with your plan. This can help with member satisfaction and retention.
5. Humanizes your organization
Blogging allows for a more engaging relationship between employees, members, prospects and your health plan. Whereas social media posts are short and sweet, blogging allows you to go deep into a subject and provide valuable content that your members and prospects are interested in. Your blog can make your health plan more transparent and give your website a personality that might not come across on other pages or platforms. Examples of the types of blog stories that can humanize your organization include member interviews and testimonials, employee volunteer activities, community partnership and sponsorship, upcoming classes and events, and recaps of these same events.
A real-world example
At Media Logic, we work with health plans, including Medicare Advantage (MA) plans, on social media and content marketing. Blogging is an important tactic to help plans gain more visibility online and attract members and prospects within their target market. Two years ago, we helped one of our MA clients launch a blog to educate their target audience and increase overall website traffic, particularly through organic search. After identifying gaps in the target audience's knowledge about Medicare along with doing SEO keyword research, we developed a target list of content topics and an editorial planning calendar to organize and keep up with regular publishing.
In addition to educating prospects and members on the advantages of MA plans, the blog has fueled overall organic growth and site traffic – site traffic is projected to increase by 70% and organic traffic by 234%. And by the end of 2022, organic blog traffic will account for 73% of all organic traffic which will help improve the site's domain authority and improve overall search engine rankings.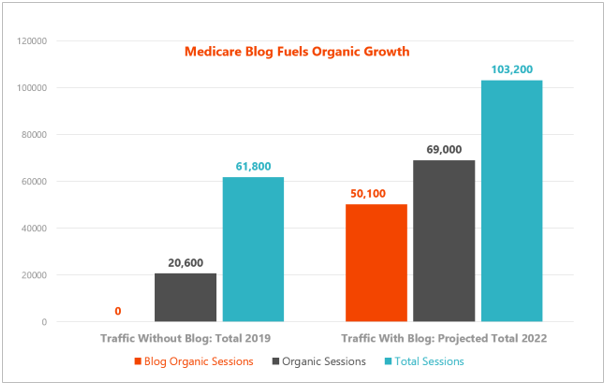 Need help getting started?
We've talked about the benefits of blogging, but we understand there may be challenges that get in the way. Blogging can be time consuming – consistently coming up with fresh ideas, regularly writing and creating content, managing the setup of the blog itself and any other technical components (including SEO). But there's good news! The content marketing team at Media Logic can be a partner to help you provide stronger thought leadership, speak to your members and prospects and create the right kind of blog content to achieve strategic value and build your organic search. Any questions? Reach out to us today.