Social for Medical: Three Key Factors for Social Marketing of Medical Practices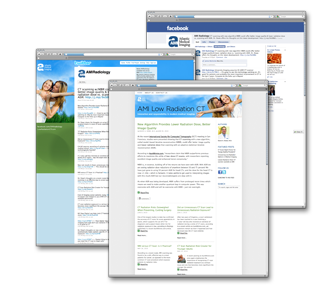 Media Logic is working with Atlantic Medical Imaging (a multi-site radiology/imaging practice based in New Jersey) to establish thought leadership, create engagement and preference among patients (and prospective patients) and referring physicians, and ultimately drive utilization. At the center of the strategic social marketing effort is a blog featuring information on the benefits of low dose radiology, a key differentiator for the practice.  We also use Facebook and Twitter to create a fan base, encourage interaction and drive traffic to the blog.
Even though the effort has just recently launched, we have used "best practice" social marketing techniques we have learned through our work with highly regulated industries such as banking and insurance to build-in security while optimizing engagement. Here are three key elements we believe are important in using social media as a marketing tool for medical practices.
Dealing with Risk
Medical providers are (rightfully) concerned about the risk of HIPAA violations on social media sites. Medical providers are also concerned about expectations that they will furnish diagnoses and treatment advice in response to fan queries. The safest way round these issues is to have a clearly stated policy (published as part of a bio or "about" section on all social media platforms) that outlines what may and may not be discussed in a public forum. For AMI, we also crafted a library of physician-approved responses to some expected (and potentially problematic) questions that would, for example, refer the fan back to his/her personal physician.
We also knew that we should be prepared to the "airing" of patient-service issues (for example, long waiting times, billing concerns, etc.). These types of issues need to be addressed quickly in the public space to show the practice's concern and then moved offline for resolution.
Perhaps most importantly, Media Logic (via its Zeitgeist & Coffee social media management service) established a rigid approval protocol for all social media postings, including responses to fan queries and blog comments.
Establishing a Voice
One of the most critical aspects of establishing an effective social media presence is to differentiate your practice from the sea of medical information available online and in the social space. For AMI, we looked to do two things. First, we needed a persona (or a "voice") that would speak for the practice. No one wants to have a conversation with an institution or a faceless practice. At AMI, this voice was the voice of Dr. David Dowe, an eminent radiologist and a rather forthright persona in his own right. Dr. Dowe's voice personalizes AMI and makes it distinctive in the social space.
Second, we needed a point-of-view. Why should anyone care to read AMI's blog or to follow the practice on Facebook or twitter? We found the answer in AMI's adoption of an important new approach to CT-scans using low doses of radiation. It allowed us to position AMI as a thought leader and champion of an important cause – beyond being "just another imaging center."
Being Committed
Finally, participating in social media requires a commitment. "In & out" attempts fail to build followers and can, in fact, produce a negative response. AMI, working with Media Logic, established firm expectations for participation (for example, number of Facebook posts per weeks, number of blog posts per month, etc.) to make sure that we were actively conversing with our target audiences. Using Media Logic's Zeitgeist & Coffee dashboard as control central, a Media Logic conversation manager tracks the schedule, promotes topics of conversation, encourages client participation and handles the details of posting and follow up. Most social media efforts fail because they are just not anybody's "real" job.