Facebook Promotion Guidelines, DECODED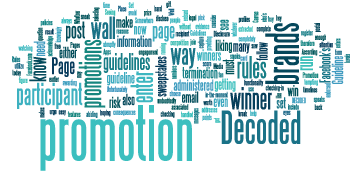 The first 5 people to comment score a pair of shoes!
Fill in the blank to enter to win a $50 gift card!
'Like' this post and you might win!
Facebook wall promotions: They're easy to set up and enter, in-the-moment and exciting to participate in, which are undoubtedly a few of the reasons why many brands continue to coordinate them.
Unfortunately, they also completely disregard Facebook's promotions guidelines and run the risk of page termination at any moment. What I can't figure out is: Do brands know this and run them anyway, hoping to fly under the radar? (As you can see here, that doesn't always work.) Or do they not even realize Facebook has set strict policies on the way promotions can be handled?
Well, if you're reading this post, consider yourself now in the know. Here at Media Logic, we're constantly abiding by the guidelines. We urge you to read all eight in your free time, but for now, I've extracted a few points that you should know like the back of your hand.
1) What a "promotion" is
According to Facebook, "any contest, competition, sweepstakes or other similar offering" is a promotion.
Decoded: If you intend to pick a winner, you're running a promotion—and therefore have to follow the rules.
2) What you need to acknowledge
This is guideline #2. Somewhere in your promotion, you have to include:
A complete release of Facebook by each entrant or participant.
Acknowledgment that the promotion is in no way sponsored, endorsed or administered by, or associated with, Facebook.
Disclosure that the participant is providing information to [disclose recipient(s) of information] and not to Facebook.
Decoded: Facebook doesn't want to be connected, in any way, to your promotion, so just be sure to make that clear.
3) Where you can run a promotion
Guideline #1 says: "Promotions on Facebook must be administered within Apps on Facebook.com, either on a Canvas Page or an app on a Page Tab."
Decoded: Not on the wall! Yes, you can post about the promotion on the wall, but the way in which a participant enters, registers or votes cannot utilize Facebook features (such as liking the page, checking-in or commenting).
4) How you can't contact the winner
Guideline #6 is pretty straightforward: "You must not notify winners through Facebook, such as through Facebook messages, chat, or posts on profiles (timelines) or Pages."
Decoded: You can email the winners, call them, send smoke signals or whatever you need to do to get their attention—but you cannot do it through Facebook. Set up your entry form to capture email or postal addresses, or phone numbers, to avoid having to break the rules.
5) How you can't choose the winner
You may see some brands randomly selecting a fan and awarding them with a prize, but that's also against the rules. As guideline #3 says: "…the act of liking a Page or checking in to a Place cannot automatically register or enter a promotion participant."
Decoded: Your Official Rules should state how the winner(s) will be selected after they knowingly enter into the sweepstakes, without the use of Facebook functionality.
6) Why you should follow the guidelines
Seeing so many brands successfully getting away with wall contests—and watching their engagement levels spike as a result—makes it tempting to join the fray and sneak one (or a few) through. But as you saw earlier, there are cases of promotions getting pulled abruptly for breaking the rules, and a page termination isn't out of the question, either. As if Facebook's eyes weren't enough, there's even evidence of brands trying to out brands. Whether you're representing your own brand or someone else's, we say the risk isn't worth the consequences. Just make up for it with a legal promotion that speaks for itself…and hey, we can help with that.
Decoded: Contact us today!