Media Logic Releases Results of Medicare Direct Mail Design Survey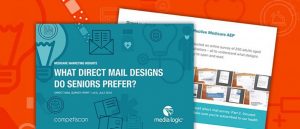 Direct mail is a key strategic marketing element for targeting seniors during AEP, so creating pieces that will be opened and read is essential. A recent Media Logic report sheds light on which visual elements are preferred by seniors when it comes to Medicare direct mail design and formatting. Here's one thing we discovered: envelope and letter formats with more prominent visual elements stood out to seniors.
To understand which designs and formats resonated most strongly with the Medicare audience, we showed 250 adults aged 65 and older various envelopes and letters and asked them to rank their preferences. The results to this survey were compiled into our report What Direct Mail Designs Do Seniors Prefer.
Our findings provide design insights to help optimize the performance of direct mail.  Read the full report here.