Media Logic Releases Insights and Advice for Health Plan Marketers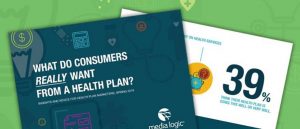 What health insurance benefits are most important to consumers and how well are health plans delivering on those benefits? We surveyed 400 consumers to ask these essential questions, and while some of the results to the survey were expected, others reflect the new realities of a post-ACA world.
The survey's most surprising findings on marketing health insurance showed a critical gap between the benefits consumers want most and their perceptions about how well their health plans deliver.
In the Media Logic report What Do Consumers Really Want from a Health Plan: Insights and Advice for Health Plan Marketers we share the results from this survey and offer advice and tips on how onboarding, health concierges, member portals, and other tools can help to ensure members are getting what they really want from their health plans.
Click here to download the full report.