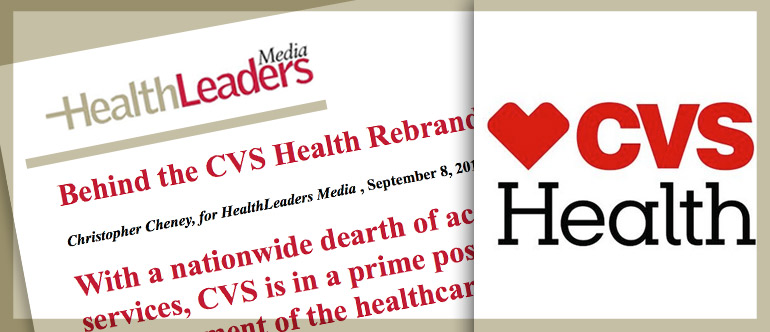 HealthLeaders Consults Media Logic's David Schultz for Article on the CVS Rebrand
Chris Cheney, reporter for HealthLeaders Media, has interviewed Media Logic President and Founder David Schultz for an article about the strategy behind the CVS decision to rebrand itself as "CVS Health." In the piece, "Behind the CVS Health Rebranding Strategy," Cheney writes:
David Schultz, founder and president of Albany, NY-based Media Logic, said CVS officials have made a significant statement in their rebranding. "'Health' is an appropriate word to use in the name of their organization. They're one of the largest [prescription] retailers in the US . . . one of the top pharmacy benefit managers . . . and they operate the nation's largest chain of medical clinics: MinuteClinic," he said in an email message last week. "Simply put, they're a significant player in the healthcare space and, I think, they want to 'mark their territory.'"
Schultz . . . noted that timing the CVS Health rebranding with the removal of tobacco products from store shelves was a savvy marketing move.
"The removal of tobacco from stores was clearly going to get a lot of positive press, so why not leverage that exposure to say, 'We've changed our name to CVS Health because we're all about helping people stay healthy?'" Schultz said. "This was especially important because they're not changing the store names, which means they needed another way to get this news in front of the consumer."