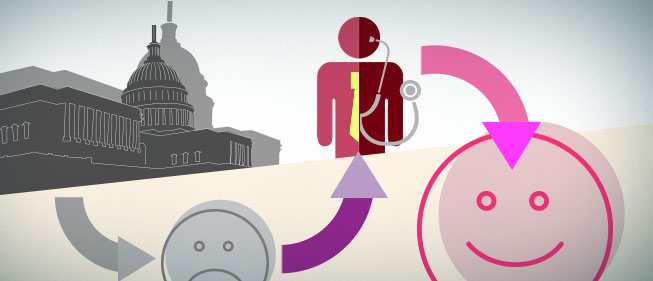 Visitors to the healthcare marketplaces report that the experience improved between October 2013 and December 2013. However, many – 69 percent – still only rate their experience as "fair" or "poor," and 60 percent who visited did not end up applying for coverage, according to The Commonwealth Fund's Affordable Care Act tracking survey. The Commonwealth Fund says, "The data reveal that the federal and state marketplaces will need to continue to enhance consumer usability. … Consumers will continue to need assistance with selecting plans."
Released on January 10, the report – "Americans' Experiences in the Health Insurance Marketplaces: Results from the First Three Months" – has several key findings:
The majority of marketplace visitors (69 percent)  rate the experience "fair" or "poor."
Forty six percent who tried to determine eligibility for financial help say it was "somewhat difficult," "very difficult" or "impossible."
Although the ability to compare health plans has improved (as reported by the study), 42 percent say it was somewhat/very difficult or impossible to compare plan premiums, 51 percent say it was somewhat/very difficult or impossible to compare plan benefits, and 54 percent say it is somewhat/very difficult or impossible to compare potential out-of-pocket costs, like deductibles and copays.
Citing the study, Business Insider says, "Sixty percent [of those who have visited the federal marketplace] say it is either somewhat difficult, very difficult, or impossible for them to find a plan with the type of coverage they need. That's actually up four percentage points from October. Fifty eight percent also say the same about finding plans they deem affordable (down 3 percent since October). That's a big problem. The long-term success of the law depends on people finding plans that they like and are affordable."
In addition, 37 percent of those eligible are unaware of the marketplaces at all, and 44 percent are unaware of financial help offered through healthcare reform, a "stubbornly stable challenge for policymakers," according to Fierce Health Payer. According to another study from the same timeframe, that number is even higher: Enroll America says, "Sixty nine percent do not know tax subsidies or financial help are available."
While there is little that payers and providers can do to improve the user experience of the state and federal exchanges, there are some actions they can take to improve the situation for consumers. First, there is a collective need to better communicate about the financial help that is available to help pay for insurance premiums. The fact that such a large percentage of consumers are unaware of subsidies is a big obstacle; it means that people are making their decisions – or assumptions – based on full prices, when in reality their premiums could be much lower. Second, and this applies mostly to payers, there is an opportunity to provide consumers with tools that help them determine eligibility for subsidies, as well as how much they could be entitled to receive. Tools that help consumers project potential out-of-pocket costs would also be useful.
Tags:
affordable care act
,
healthcare marketing